Every day the Boss range of world leading brands step up to meet the harshest and widely varied conditions that their clients deal with - and keep coming back for more.
"Our focus has always been on brands that we can trust to perform to customer expectations", said Paul. "So when we make a commitment to a client we're confident that our attachments won't come up short".
That's one of the reasons that Boss's performance on both sides of the Tasman has been well ahead of market projections during the last 12 months.  
The new Cosben telescopic arm has been setting new excavation standards at 3 landmark projects in Sydney and Melbourne.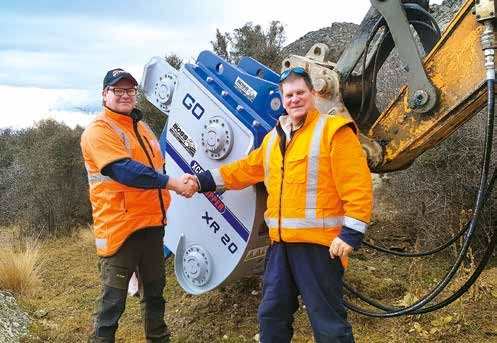 In New Zealand, the town of Palmerston in the South Island is home to Skevington's - a successful civil construction contracting business whose extensive range of services include civil work, heavy machine operation, underground mining, alluvial gold mining and lots, lots more. Earlier this this year, the company's focus on new technologies that deliver cost effective performance, saw it invest in an Xcentric Ripper from Boss.
"We're using the XR 20 on construction adjacent to Mount Campbell Dam", said company owner Blair Skevington. "Because of the proximity to the dam we couldn't use explosives and our D8 Cat wasn't up to the job".
Blair reports that the Xcentric Ripper has been a great investment, is really cost effective and delivers hassle free operation.  After they finish the work at Mt Campbell the Xcentric Ripper has two similar dam projects ready and waiting for it. The Xcentric Ripper outperforms traditional hydraulic hammers and static rippers in nearly every type of material, particularly in medium hardness rock with natural fracturing and layers. Using patented Impact Vibration Accumulation Technology, the hydraulic ripper attachment works with the natural rigidity of the rock, and the vibrations that are produced shake the material to deepen cracks for easier breakup.
Also in the South Island, at Moa Flat, West Otago,  based contracting company Timber Creek Contracting, were happy to sing the praises of their Xcentric Crusher Bucket.
"We're really pleased with both the XC 20 Crusher Bucket's output speed and the quality of final product, it's really easy to service and Paul has been great to deal with", said owner Peter Brenssell.     Xcentric Crusher Buckets feature a patented isolating jaw movement which ensures material is crushed without a compacting effect – which helps deliver at least 35% greater production that conventional crusher buckets.   Other NZ Xcentric Crusher Bucket clients, like Steve Allan of Harrison Bulk Haulage - describe them as - "bloody brilliant".
Further north in Masterton Terry O'Brien of Wairarapa Scrap Metal – is also very satisfied with the new OSA  SH 25 Shear that they purchased from Boss earlier in the year.  Wairarapa Scrap Metal is the region's leading scrap metal specialist with resources that turn everything from cars to steel beams into recyclable scrap.   
"We went all the way to Sydney to check it out and I'm glad we did," said Terry.  "We have the shear mounted on a 20 tonne excavator and the efficient trouble free performance that it's delivering makes it great value for money – especially when you compare it to alternative options".  OSA is recognized as the benchmark for demolition equipment and their world leading range of demolition attachments is the brand of choice when it comes to the demolition of concrete structures and then processing of concrete, demolition of steel structures, scrap yard processing and demolition handling equipment.
In addition to the outstanding brands mentioned above Boss Attachments also handle other world leaders like the Antraquip Rock Cutting range, Dymax Forestry Equipment and JackJaw metal stake pullers.    
"During the last 12 months we have also introduced Metsys Lasers to the NZ market and they created massive interest at the recent Big Boys Toys Expo" said Paul Herbison.
For further information visit www.bossattachments.co.nz or contact Paul Herbison 027 290 8306