If your specialty in the industry is demolition, recycling, handling, forestry, earthmoving or mining, then we are pretty sure the name Boss Attachments is already familiar to you. Boss Attachments have certainly been one of the companies on our radar doing some great things with some great products in recent times. Their success in this ever- competitive market lies on their diverse product portfolio and reputation to give clients a service experience that is second to none. In January 2017 Boss Attachments was awarded the exclusive dealer for the Xcentric Crusher whilst the Xcentric Ripper was distributed by another entity. For 2018 Xcentric Ripper International will launch its all new Xcentric Ripper Mining Series. Due to Boss Attachments' professional approach to customer service and after sales care, Xcentric Ripper International have awarded Boss Attachments the exclusive Oceania dealer for the entire Xcentric range of products.
Just when you think your machine has maxed its possible application limits along comes the all new Xcentric Ripper Mining Series. The Xcentric Ripper is an excavator hydraulic attachment designed for the mass extraction of rock in mining and civil applications. Developed with a patented system of "Impact Technology by accumulation of energy", which in most instances makes the Xcentric Ripper up to five times more productive than conventional hydraulic breakers.
The all new Xcentric Ripper "Mining Series" is focused on mining applications, where the highest production values are required, as well as continuous work shifts where
reliability and excavator operator comfort are of great importance. The working technology is basically the same as in the standard version, however the new Mining Series have been reinforced and have a remodelled working platform which delivers a much higher energy impact force to the work tool with a lower frequency.
Designed to increase production, at lower operating costs and reduced noise levels, the all new XR Mining Series is a revolution for high volume rock excavation.
Xcentric International is a worldwide leader in the manufacture of advanced hydraulic work tools for extraction and process of rock and concrete. After more than 10 years of experience in the design and manufacture of one of the world's most productive, reliable and technologically advanced hydraulic rippers, Xcentric International has taken the Xcentric Ripper era to a whole new dimension with the release of the all new Xcentric Ripper Mining Series.
Xcentric Ripper Mining Series
Here are the facts:
Five times higher production than conventional rock breakers
A safe and easy alternative to drill and blast options
New slim body design makes the XR Mining Series perfect for trenching applications
Minimum noise levels
Minimum maintenance
No daily lubrication required
Minimum wear parts consumption
Long life components and materials
Less fuel consumption per produced m3/tonne
Less emission per produced m3/tonne
Environmental protection (Bio Lubricants)
Marine/underwater operation
Can be used on standard excavators
Increase operator comfort
Full range of models suitable for 8 to 150-tonne excavators
HARDOX® and Strenx construction ensures long-lasting durability in extreme conditions
Designed and manufactured in Spain by Xcentric International, only the best materials are used for excellent quality. Solid, durable and characterised by the now recognisable clean lines designed to resist wear and high stresses in the toughest working conditions
Extreme compactness and low centre of gravity improves balance and drastically reduces the strain on the excavator arm, eliminating impact vibrations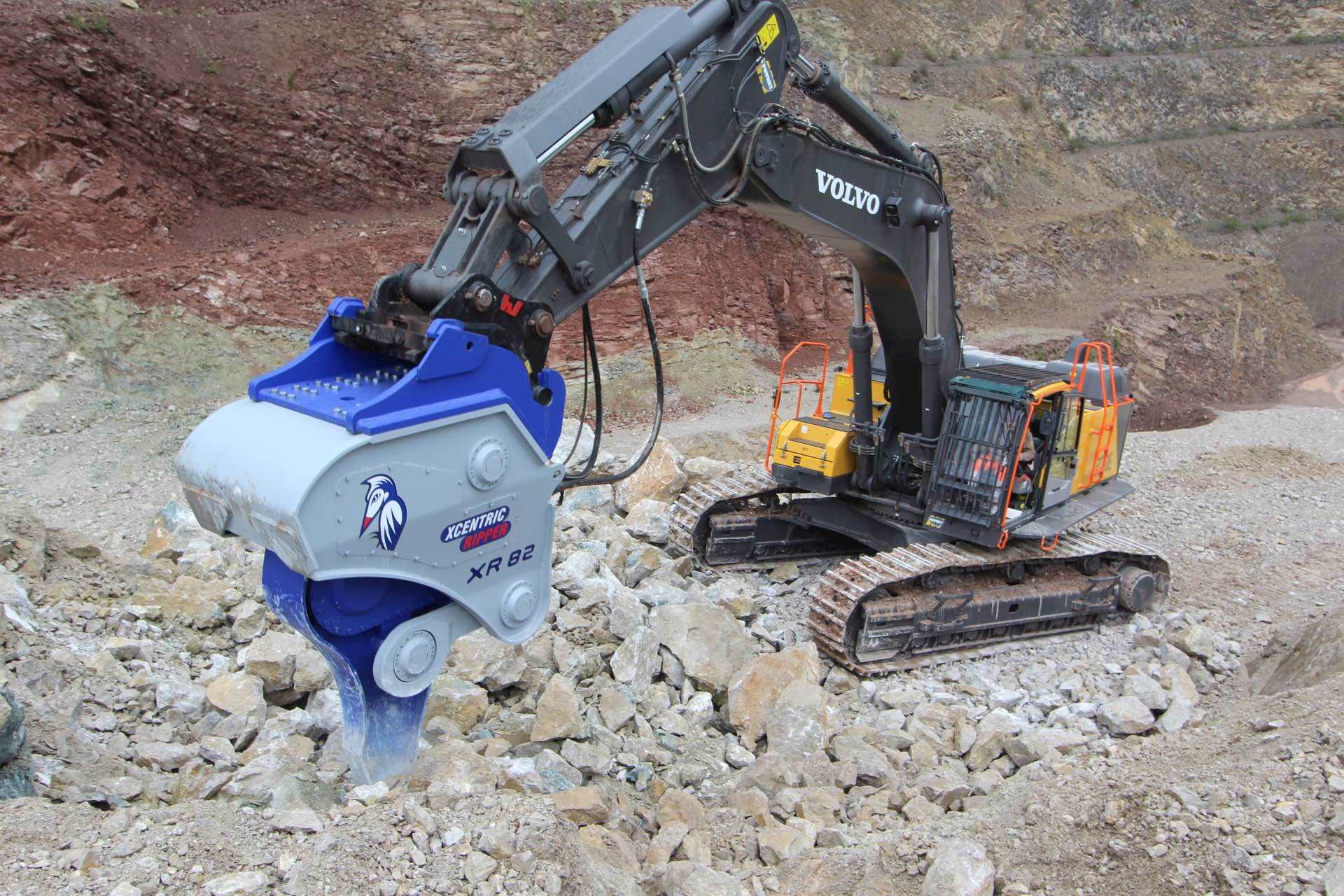 Grado Cero Group has been manufacturing plants for the production of heavy duty excavator buckets and patented Go Max quick couplers. At the same time one of their divisions are performing large rock excavation and trenching projects in the North of Spain. Thanks to this unique combination, they were able to invent and develop a completely new attachment to execute these difficult projects much faster and more efficiently.
In the beginning of 2009 the first prototypes started to work for the first practical tests in all kinds of different rock conditions. Non stop and intense working from that moment on, in all types of rock, has resulted in a 100 per cent reliable, efficient and maintenance-free attachment: the Xcentric® Ripper.
Economical and financial demands in the market are always pushing for increased performance and production output in rock excavation and demolition. At the same time clients are asking for lower maintenance costs, less down time and better warranty conditions. In 2009 Grado Cero has developed a revolutionary attachment: the Xcentric® Ripper to do excavation and demolition in less time, for lower cost and with a minimum of noise.
The Xcentric® Ripper is developed with a patented "Impact Energy Accumulation Technology", which makes it in 80 per cent of the job applications more productive than any Hydraulic Breaker available on the market.
In even 70 per cent of the job applications a 2 to 5 times higher production can be achieved. The Xcentric® Ripper's closed energy chamber cannot be influenced or damaged from the outside by dust, water or dirt. This means that it can work without any problem in the most severe conditions in tunnels, foundations, muddy and wet places.
Even all kinds of work underwater in for example harbours, canals and open sea can be done without making any special expensive and complicated preparations. This is where and why the Xcentric® Ripper saves so drastically the high expensive maintenance and repair cost that normally appears in such working circumstances.
The Xcentric Ripper is a must have for any serious contender in the mining and civil industries.
For more information contact us now!