Boss wins top awards at 2018 Diesel Dirt and Turf Expo
2018 Diesel Dirt and Turf Expo at Penrith has been a major success for Boss Attachments. As well as having thousands through its site Boss also won the Best large Site and Best Of Show Awards.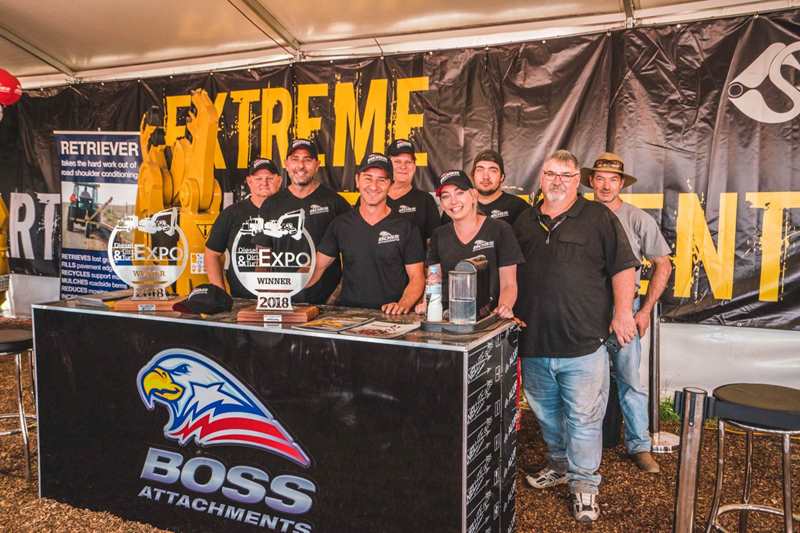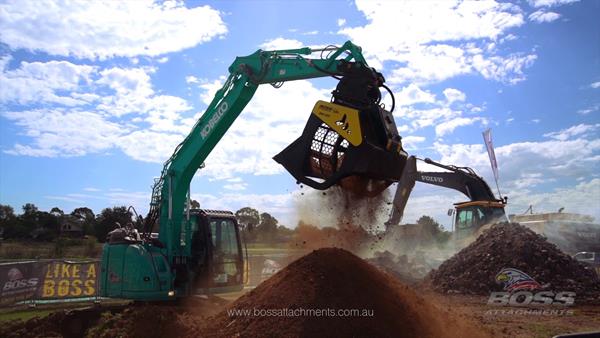 "We're absolutely wrapped", said Boss NZ Managing Director Paul Herbison. "The interest in our products and the sales opportunities we've achieved during the event has been massive".
A major crowd pleaser at the Boss demo site was the "BEAT THIS CHALLENGE" which offered a free Xcentric Crusher bucket to anyone who could find a bucket that could out-perform the Boss XC 30 Xcentric Crusher bucket.
At close of show no one has come forward with a better bucket and the demo Xcentric bucket, which is able to produce around 80m3 per hour, will soon be on its way to a happy customer. Its twin on the stand is now on its way to New Zealand.
"This demonstration – and the free offer – really showed just how good the Xcentric product range is" said Paul "When it comes to outright production, product quality, and low maintenance performance they are in a class all of their own and carry a complete 2 year warranty – including belts".
The Xcentric Crusher Bucket range was launched at last year's Diesel Dirt and Turf and since then it has gained a significant share of the Australasian market. In New Zealand Boss is already seeing repeat business potential with a number of companies interested in adding a second bucket to their equipment range.
"One customer, who has owned an XC20 for just 5 months has already ordered his second one".
Other new products launched by Boss at the Expo included the new Xcentric Ripper Mining Series range and MB Dust Cannon with the XR42 and DC35 on-show.
Like the Xcentric Crusher Bucket, the new Xcentric Ripper is also a class leader and it is the original of its type in the market.
After more than 10 years' development in the design and manufacture of the worlds most productive, reliable and technologically advanced hydraulic ripper, Xcentric International has taken the Xcentric Ripper range to a whole new dimension with their all new Xcentric Ripper MINING SERIES.
The Xcentric Ripper is a hydraulic excavator attachment designed for the mass extraction of rock in mining, quarrying and civil applications.
It has been developed with a patented system of "Impact Technology by accumulation of energy", which in most instances makes the Xcentric Ripper up to 5 times more productive than hydraulic breakers.
The MB Dust Cannon, which beats dust problems by weighing down dust particles by binding them with droplets of water so they quickly fall to ground, also created a lot of interest. It also helped kiwi and other expo visitors cool off in the 39-degree Penrith heat.
"With the increased focus on health and safety, plus the growing awareness of silicosis, these units will deliver major benefits for the quarry, earth-moving and demolition sectors", Paul added.
For further information contact us today.