Antraquip Transverse Cutters
These powerful attachments provide precise cutting control for rock excavation or concrete removal and demolition.
Antraquip Hydraulic Cutters are the solution for your next project involving trenching, general rock excavation, controlled demolition, scaling, profiling, soil remediation, frozen ground cutting, tunneling, rock dredging, and many other applications.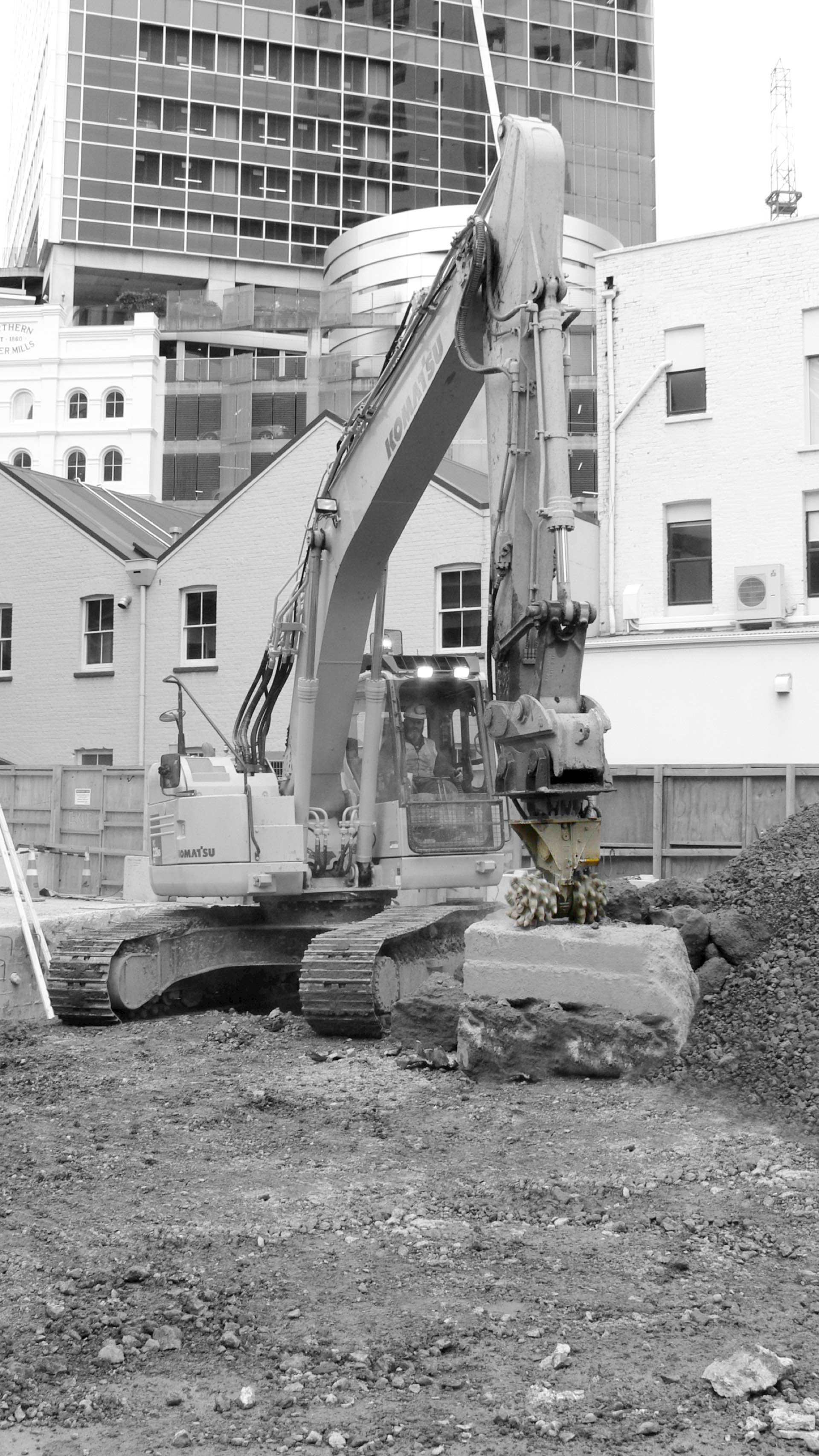 Little or no micro cracking of the ground outside the excavation line. (Cracking from hammers has been shown to reach up to 2m, depending on rock type). This can cause issues with existing infrastructure.
Minimised overbreak of trench line.
Minimal disturbance of trench face making for a safer more intact trench.
Lower noise impact than other methods.
Lower vibration impact.
Ability to reuse the material onsite as hardfill, thus reducing waste and increasing site efficiency.
Extremely reliable tools and Antraquip also have a range of Soft Soil mixing attachments which have used in NZ for Mud-Crete.
| | | | | |
| --- | --- | --- | --- | --- |
|   |   | AQ-1S  | AQ-1  | AQ-2  |
| Cutting Head Diameter  | in (mm)  | 9 (230)  | 11 (280)  | 15 (380)  |
| Cutting Head Width  | in (mm)  | 19 (485)  | 21 (535)  | 25 (635)  |
| Displacement 1  | RPM  | 150 RPM @ 7 GPM  | 100 RPM @ 7 GPM  | 95 RPM @ 16 GPM  |
|   | L/MIN  | 150 RPM @ 25 L/MIN  | 100 RPM @ 30 L/MIN  | 95 RPM @ 60 L/MIN  |
| Displacement 2  | RPM  | 160 RPM @ 11 GPM  | 115 RPM @ 18 GPM  | 90 RPM @ 25 GPM  |
|   | L/MIN  | 160 RPM @ 40 L/MIN  | 15 RPM @ 60 L/MIN  | 90 RPM @ 95 L/MIN  |
| Oil Flow Range  | GPM (L/min)  | 5 - 12 (20 - 45)  | 8 - 20 (30 - 75)  | 12 - 26 (45 - 100)  |
| Max Pressure  | PSI (bar)  | 5,800 (400)  | 5,800 (400)  | 5,800 (400)  |
| Max Torque Output  | lbs (Nm)  | 1,196 (1,620)  | 2,625 (3,560)  | 4,370 (5,925)  |
| Max Cutting Force  | lbs (N)  | 3,315 (14,750)  | 5,717 (25,440)  | 7,028 (31,275)  |
| Weight  | lbs (Kg)  | 230 (105)  | 495 (225)  | 1,010 (460)  |
| Maximum Input Power  | HP (kW)  | 24 (20)  | 45 (35)  | 60 (45)  |
| Carrier Weight (Recommended)  | tons  | 1 - 3 | 2 - 8 | 5 - 15 |
| Engine Power of Carrier (Recommended)  | HP (kW)  | 13 - 45 (10 - 35)  | 15 - 60 (10 - 45)  | 25 - 90 (20 - 65)  |