Tecna Hydraulic Breakers
Advanced design and proven performance combine to make TECNA Hydraulic Breakers a worldwide smash hit.
TECNA DESIGN MEANS
LESS MOVING PARTS
STATE OF THE ART KNOW-HOW
---
Design simplicity and quality manufacturing allow around 50% LESS COMPONENTS compared to competitors.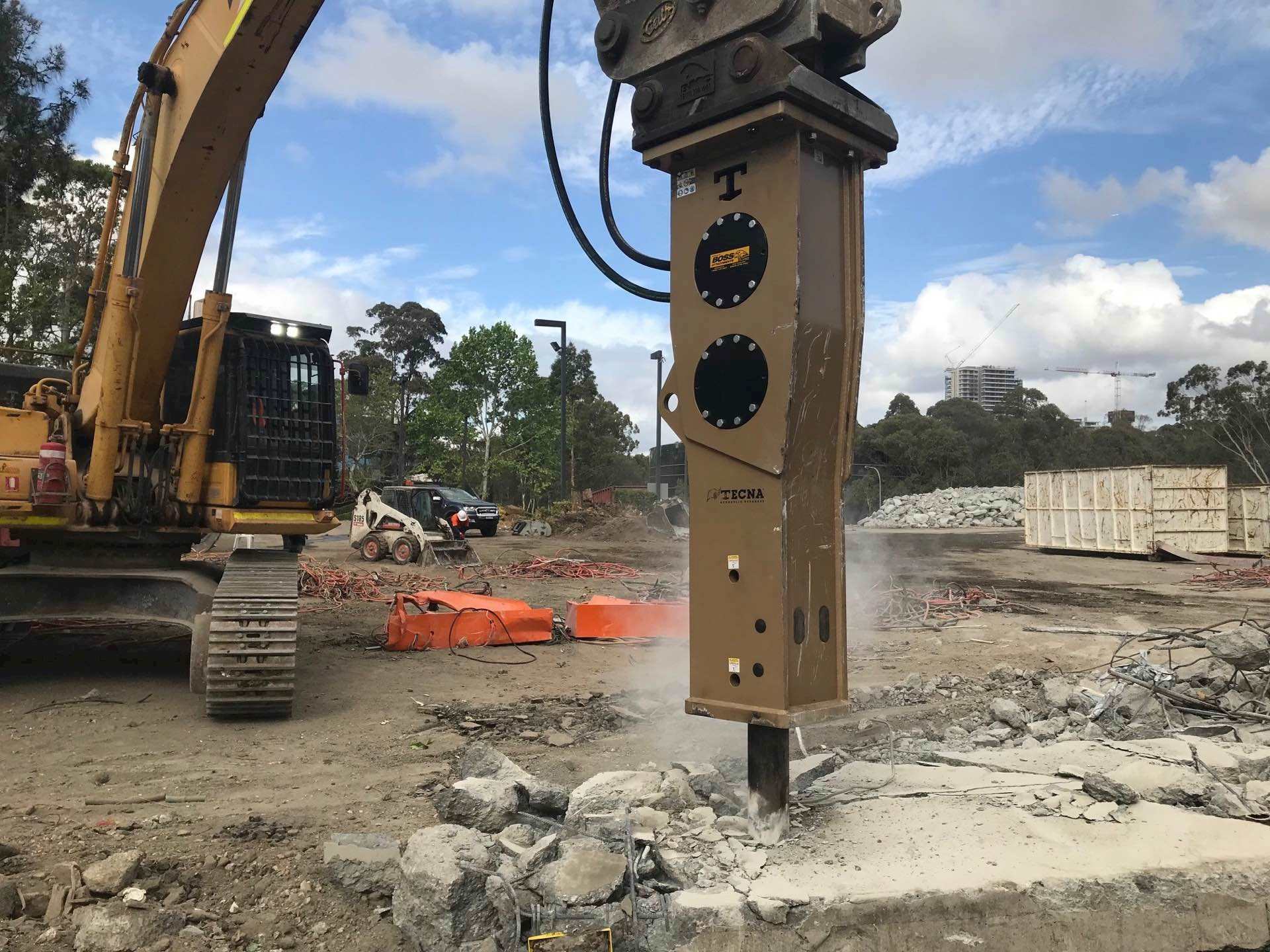 SIMPLE, TOUGH & RELIABLE
Less moving parts, other than an adequate manufacturing quality means more reliability.
TECNA patents have a design that allow to have about 50% less of components when compared to competitors.
TECNA patent design allows to have only 2 moving parts against 20 parts of the competition.
In 10 years of production hydraulic breaker class 200 kg (for excavator size from 2800 kg to 4500 kg), 4000 units sold: failure components in contact with oil (pistons and/or cylinders) only 4.
5 TIMES THE DIFFERENCE
Tecna Group has following patents registered:
Patent 0001312140
Oleo-dynamic percussion machine working at constant pressure.
Patent 0001344810
Oleo-dynamic percussion machine with double impact mass.
Patent WO 2006/097816 A1
Oleo-dynamic percussion machine with on-off slide valve and pilot piston.
Patent 0001363596
International version of the patent N°3.
Patents BA2012A00019 and BA2012000A00055
Hydraulic hammers with Start & stop and optimized hydraulic circuit with 3D piston.
LIGHT WEIGHT
| | | | | | | | | |
| --- | --- | --- | --- | --- | --- | --- | --- | --- |
|   |   | T60 | T80 | T120 | T160 | T200 | T250 | T300 |
| SUITABLE EXCAVATOR | tonnes | 0.6-1.6 | 0.6-2.2 | 0.8-2.5 | 1.8-3.0 | 2.5-4.5 | 4-5 | 5-7 |
| OPERATING WEIGHT | kg | 75 | 90 | 120 | 160 | 200 | 250 | 320 |
| TOOL DIAMETER | mm | 40 | 40 | 45 | 48 | 56 | 65 | 73 |
| OIL SUPPLY | l/min. | 15-25 | 20-35 | 25-45 | 30-45 | 35-50 | 40-65 | 50-70 |
| BREAKER WORKING PRESSURE | bar | 100-140 | 100-140 | 100-140 | 100-140 | 100-140 | 100-140 | 100-140 |
| RELIEF PRESSURE SETTING | bar | 140 | 180 | 180 | 180 | 180 | 180 | 180 |
| BACK PRESSURE AT THE BREAKER | bar | 14 | 14 | 14 | 14 | 20 | 20 | 20 |
| POWER INPUT KW | kw | 5 | 6 | 7 | 8 | 11 | 13 | 15 |
| IMPACT RATE | n/min. | 600-900 | 600-900 | 500-800 | 600-900 | 600-900 | 700-1000 | 600-900 |
| RETURN LINE HOSE CONNECTION |   | 1/2" G | 1/2" G | 1/2" G | 1/2" G | 1/2" G | 3/4" G | 3/4" G |
| INLET LINE HOSE CONNECTION |   | 1/2" G | 1/2" G | 1/2" G | 1/2" G | 1/2" G | 3/4" G | 3/4" G |
| REC'D. INLET LINE SIZE (Ø min.) | mm | 10 | 10 | 10 | 12 | 12 | 15 | 15 |
| REC'D. RETURN LINE SIZE (Ø min.) | mm | 12 | 12 | 14 | 14 | 14 | 18 | 18 |
MEDIUM WEIGHT
| | | | | | |
| --- | --- | --- | --- | --- | --- |
|   |   | T400 | T600 | T800 | T1000 |
| SUITABLE EXCAVATOR | tonnes | 7-10 | 10-15 | 12-18 | 16-20 |
| OPERATING WEIGHT | kg | 400 | 600 | 850 | 1100 |
| TOOL DIAMETER | mm | 80 | 90 | 110 | 115 |
| OIL SUPPLY | l/min. | 75-100 | 85-115 | 100-130 | 125-145 |
| BREAKER WORKING PRESSURE | bar | 100-140 | 130 | 120 | 120 |
| RELIEF PRESSURE SETTING | bar | 180 | 160 | 160 | 160 |
| BACK PRESSURE AT THE BREAKER | bar | 20 | 12 | 8 | 10 |
| POWER INPUT KW | kw | 22 | 16 | 20 | 24 |
| IMPACT RATE | n/min. | 600-900 | 600-900 | 600-900 | 450-850 |
| RETURN LINE HOSE CONNECTION |   | 3/4" G | 3/4" G | 3/4" G | 1" G |
| INLET LINE HOSE CONNECTION |   | 3/4" G | 3/4" G | 1" G | 1" G |
| REC'D. INLET LINE SIZE (Ø min.) | mm | 16 | 16 | 19 | 20 |
| REC'D. RETURN LINE SIZE (Ø min.) | mm | 22 | 20 | 24 | 28 |
HEAVY WEIGHT
| | | | | | | |
| --- | --- | --- | --- | --- | --- | --- |
|   |   | T1300 | T1500 | T1800 | T2400 | T3200 |
| SUITABLE EXCAVATOR | tonnes | 16-24 | 18-25 | 21-28 | 25-36 | 30-44 |
| OPERATING WEIGHT | kg | 1300 | 1500 | 1900 | 2400 | 3000 |
| TOOL DIAMETER | mm | 120 | 130 | 140 | 150 | 160 |
| OIL SUPPLY | l/min. | 125-150 | 135-160 | 160-180 | 190-225 | 220-260 |
| BREAKER WORKING PRESSURE | bar | 130 | 130 | 100-140 | 140 | 140 |
| RELIEF PRESSURE SETTING | bar | 160 | 180 | 180 | 200 | 200 |
| BACK PRESSURE AT THE BREAKER | bar | 12 | 12 | 12 | 10 | 10 |
| POWER INPUT KW | kw | 32 | 32 | 50 | 80 | 92 |
| IMPACT RATE | n/min. | 400-800 | 450-850 | 450-800 | 400-650 | 400-650 |
| RETURN LINE HOSE CONNECTION |   | 1" G | 1" G | 1" G | 1" G | 1" G |
| INLET LINE HOSE CONNECTION |   | 1" G | 1 1/4" G | 1 1/4" G | 1 1/4" G | 1 1/4" G |
| REC'D. INLET LINE SIZE (Ø min.) | mm | 24 | 24 | 26 | 28 | 32 |
| REC'D. RETURN LINE SIZE (Ø min.) | mm | 32 | 32 | 32 | 36 | 38 |